We Specialize in Manufacturing
Steel Water Tank Kits 

We manufacture our custom steel water tanks onsite, based on your exact needs. Common sizes we stock are 2000, 2250, 2500 3800 and 4000 gallon. This allows you to buy direct from the manufacturer and save time and money, all while getting the water tank you require! Part of the excitement of custom fabrication is constructing water tanks to match our customers' specific needs. We have built a stellar reputation for fabricating high quality custom water tanks for local, state and federal government agencies, the entertainment industry, construction companies, as well as many other public and private parties. We work hard to create rugged, reliable and long-lasting water tanks that hold up. When you invest in a custom water tank from us, you will definitely benefit from your investment for many years and jobs to come!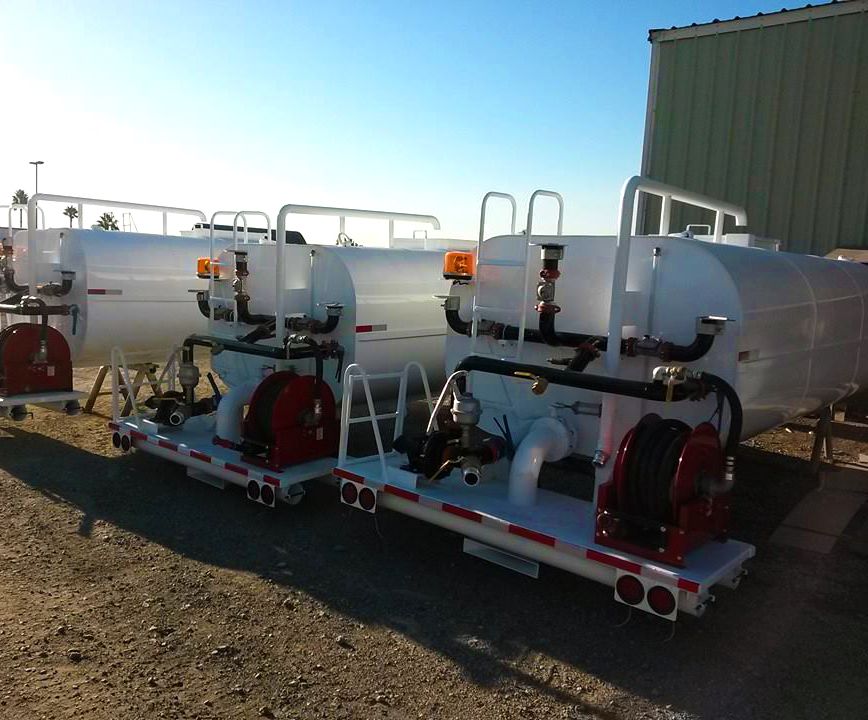 Our Custom Water Tanks are Built Strong
to
Perform

&

Last

for Years to Come
At T & B Water Trucks, we understand that other water tanks and kits made from inferior, less durable materials won't last as long, or perform as well as our water tanks do. This is why we do not cut corners, nor do we use materials that will compromise the integrity and longevity of your water truck equipment.
Our water tanks are made with durable industry-standardmaterials and methods including:
industrial grade A-36 steel with dished and flanged heads and baffles that are welded 100% inside and out.
2" stiffener pipe running through the center, with gussets on the heads and baffles.
A-36 3/16" mild steel, grip strut county spec ladders, and a 2 1/2" fill line with legal air gap.
sub frames made out of 3" x 8" x 1/4" complete box tubing with sturdy cross members for support.
​Steel Water Tank Kits & Water Tank Repair Services
We stock many different kinds of water tank kits for immediate purchase. Our wide selection of water tank kits means you can find the water tank you need without having to wait for one to be fabricated. Additionally, and for our customers who have existing water tank setups but require either installation or modification parts, we stock thousands of water truck and water tank kit installation accessories for water tanks of all sizes and makes. For our customers who reside outside of the Rialto, California area, we offer various shipping and freight options to get water tanks and water tank kits where they need to be, when they need to be there.

Our Rialto, California manufacturing facility can handle any installation project. Customers who do not want to spend time installing their own water tanks, or who do not have the equipment to properly do so, can have a water tank installed on their truck in a week or less in most cases. If you know what kind of water tank you want, but do not yet have a vehicle to install it on, we can also fabricate a custom water truck to specifically meet your needs.

​Prefabricated Steel Water Tank Kit Parts List 

This is an example of the materials comprising our complete water tank kits. You can choose an entire kit or individual parts: 

1 - 2000/4000 Gal Water Tank, A36 3/16" Steel W/ dished and flanged heads and baffles. manway, ladder and fill pipe.
5 - GOE Nipples
1 - length of 3" schedule 40 pipe same length as tank
2 - 3" weld 45's
4 - 3" Aluminum Adjustable Fan Spray(s)
1 - Set of Fenders with caps and mudflaps
1 - Expansion Chamber with 1 1/2" & 3/4" outlets,
1 - Rear Spray Bar with U Bolts & Mounting Brackets
7 - 10' of High Pressure Hose with 2"-3" KC Nipples with Bands
7 - 3" Weld 90s
5 - AV Couplers
1 - Side Spray assembly
1 - 4"x3" 750 GPM Pump, with Mounting Bracket 
1 - Air Control Panel with Air Lines & Fittings
1 - 4" Downpipe with Hose & Bands screen & vortex cover
1 - Front Spray Bar with U Bolts & Mounting Brackets
1 - Set of Tank Mounting Brackets with Bolts & Springs
1 - Complete DOT Light Mounting Kit with Brackets & Light Tube Assembly